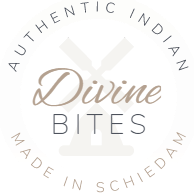 Send an email, call, or a letter
customer service
Looking for Authentic Indian Sweets? We have already answered many questions in our frequently asked questions. Is your question not listed or would you prefer personal contact? Please contact our customer service, and we will be happy to help you!
send an email
You can reach out to us using the contact form below or send a direct email to hello@divinebites.nl (reply within 1 business day)
call or whatsapp
Need urgent support? Call us or Whatsapp at +31 686 411 149. If we don't answer your phone, we will get back to you same business day.
send a letter
Letters? Well, we are old fashioned. You can reach out to us at Hoogstraat 3B, Schiedam 3111HA, Zuid Holland, NL
PLACING AN ORDER
Ordering Indian Sweets from Divine Bites is quick and easy. We constantly try to make this experience as easy as possible. You can goto the Webshop and simply add products by hovering the mouse over a product. At any time, you can see the current items in your bag by clicking the shopping bag icon in the top right. Once you are ready, press the checkout button and follow the on-screen instructions.
HOW DO I USE MY COUPON CODE
If you have an active coupon code, you can add it on the checkout page. If your coupon code doesn't work for some reason and you are sure it's a valid code, please reach out to us using one of the contact options.
DELIVERY TIME(S)
Typically all orders are shipped in three business days. However, sometimes an order can take slightly longer depending on the products and festive season. You can always ask us for express delivery, and if possible, we will be happy to accommodate.
Track & Trace – As soon as our delivery partner picks up the shipment from our store, you will receive an e-mail with a track & trace link. Are you unexpectedly not at home? Then our delivery partner will take your order to the nearest Pickup Point the next day. Depending on your address and delivery partner, they will attempt another delivery if you do not pick it up from the packet point.
I DONT HAVE IDEAL OR CREDIT CARD
We are committed to provide a hassle-free experience to our clients. If you are not able to use the available payment methods, please reach out to us on Whatsapp and we will work with you to figure out a solution.
SHIPPING CHARGES
If you order for an amount of € 99,99, delivery is free, for orders below this amount we ask a for contribution in shipping. This goes directly to our delivery partners. We have no say into this.
CHANGE DELIVERY ADDRESS
Do you want to change the delivery address after placing an order? We are going to do our best! Please contact our customer service and we will investigate whether there is a possibility to change the delivery address. Mail us at  hello@divinebites.nl or call us +31 686 411 149.
LOCAL DELIVERY AROUND ROTTERDAM AND SCHIEDAM
Currently our local delivery services are not operational due to the ongoing COVID situation. As soon as the services resume, you will see that option at the time of checkout.
PICK UP YOURSELF
If you want to pick your order yourself, you can always opt for "Local Pickup" at the time of checkout. Our store is located at Hoogstraat 3b, Schiedam 3111 HA and is advisable to make an appointment via website chat, whatsapp or calling ahead.
CAN I TASTE THESE DISHES FIRST?
Sure, you can always visit our store in Schiedam to try the fresh Indian Sweets and Snacks. If you are not close by, you can always call us for advice, and we can assure that is will be almost as if you are tasting the dishes yourself.
PERSONAL ADVICE
Do you have questions about our dishes or your order? We are happy to assist you! Our customer service can be reached by telephone on 0686 411 149 during the business hours. You can always mail via hello@divinebites.nl and  we will contact you as soon as possible.
WRONG OR DAMAGED ITEMS
We and our carrier do everything we can to deliver your order neatly and undamaged. In the unlikely event that you have received a wrong or damaged item, please contact our customer service. We will always try to find a good solution in consultation with you.
CANCEL MY ORDER
It may of course happen that you want to cancel or change your order. No problem of course, we are happy to help you! When you have ordered a product from us, you can cancel or change the order free of charge, provided it has not yet been shipped. Please contact our customer service for this. We will then cancel your order and refund the relevant amount to your account or make the desired change.
COVID AND FOOD SAFETY
Everywhere measures are taken to limit the spread of the Corona virus. This is also the case in our kitchen and store. We have also limited the number of people working in our facility to maintain the distance protocols. As you can imagine, this can have consequences for your order, and there might be a delay. We ask for your understanding.
SUSTAINABILITY
We care for the quality and this planet. We discourage the uses of one-time plastic and promote clay, plant leaves, and other bio-degradable materials for packaging. We are also part of zero food waste movement.
USER DATA
Divine Bites is not in the business of selling user data. Your information is always safe on us and we never sell it to third parties.  In our webshop, all data and payments run through a secure SSL connection so that you can shop with the peace of mind.
INGREDIENTS AND ALLERGENS
Under each product description, you will find the information related to ingredients and allergens. Please order carefully as we will not be able to return the packages once shipped.